The Great Barrier Reef actually is so immense, stretching 2300 kilometers, in fact this natural wonder is so large it can be seen from outer space. Supposedly there are 1625 types of fish (and how would you really count that, wow), 133 varieties of sharks and rays (glad to say we didn't meet one) and more then 30 species of whales and dolphins (we wouldn't have minded meeting a few dolphins face to face).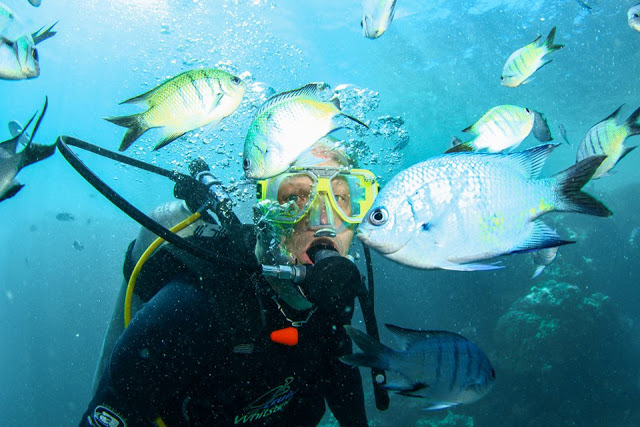 We had an incredible time with the Cruise Whitsunday's crew as we sailed the Great Barrier Reef. Dale talked Marissa and I into scuba diving with some help from the crew:) – and they know who they are! Cruise Whitsunday offers a "Beginner's Scuba Dive" where they teach you the basics while in shallow water then you are escorted by a "PRO" (Yep, all in an afternoon).  Two beginners per crew member. They don't take you incredibly deep and only to your comfort level. Honestly my comfort level would be laying on the deck BUT I wanted to have this experience with Dale and Marissa, so I took a deep breath and said, "YYEEESS"!
Marissa and I were so nervous but decided that we may never be here again for this opportunity.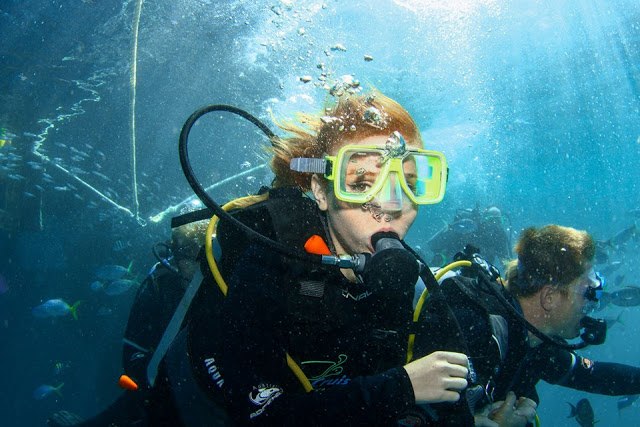 Marissa was much braver then her Mom and got the hang of it pretty quickly. The crew of Cruise Whitsunday are phenomenal and made sure every concern or need was taken care of.  Even though I was having a few panic issues, they eased my mind, held my hand and only let go If I wanted them too. If we ever get the chance to cruise with them again, we would not hesitate (they however may think twice about taking me:).