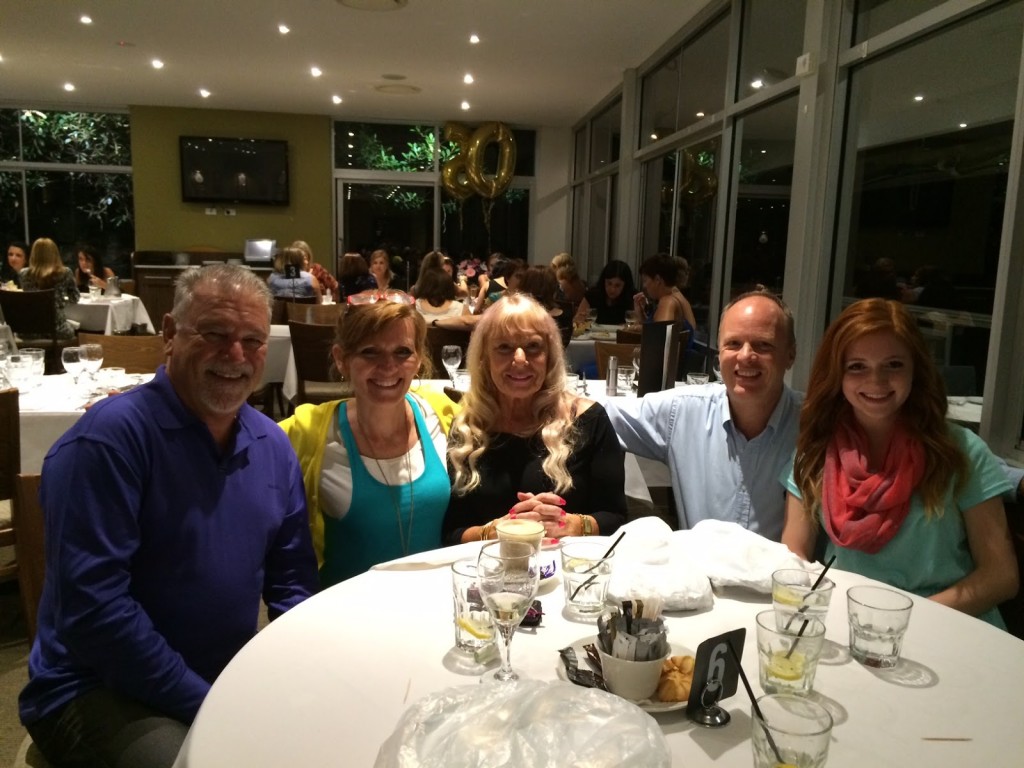 Business friends who have quickly been added to our list of friends invited us to dinner. This was Marissa's first time meeting them…. she was soon drawn in with Helen's stories and delightful talk along with Peter and his quick humor. Helen and Peter might want to watch out as Marissa could easily 'adopt' them!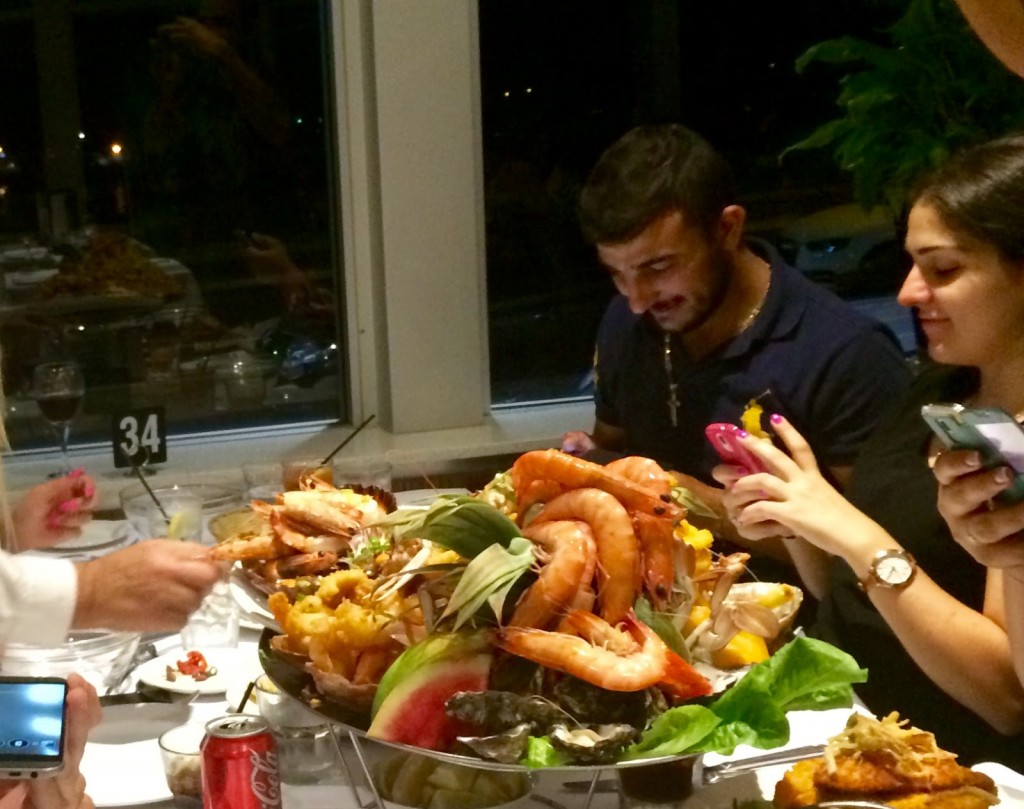 As we were just getting ready to leave the table next to us was served this Gigantic Goliath
 plate of seafood. As I was talking with them in taking the photo, I told them I would come back next week to see if they had finally finished (notice that all their phones were out taking photos of this onsite delight) or stomachache hangover.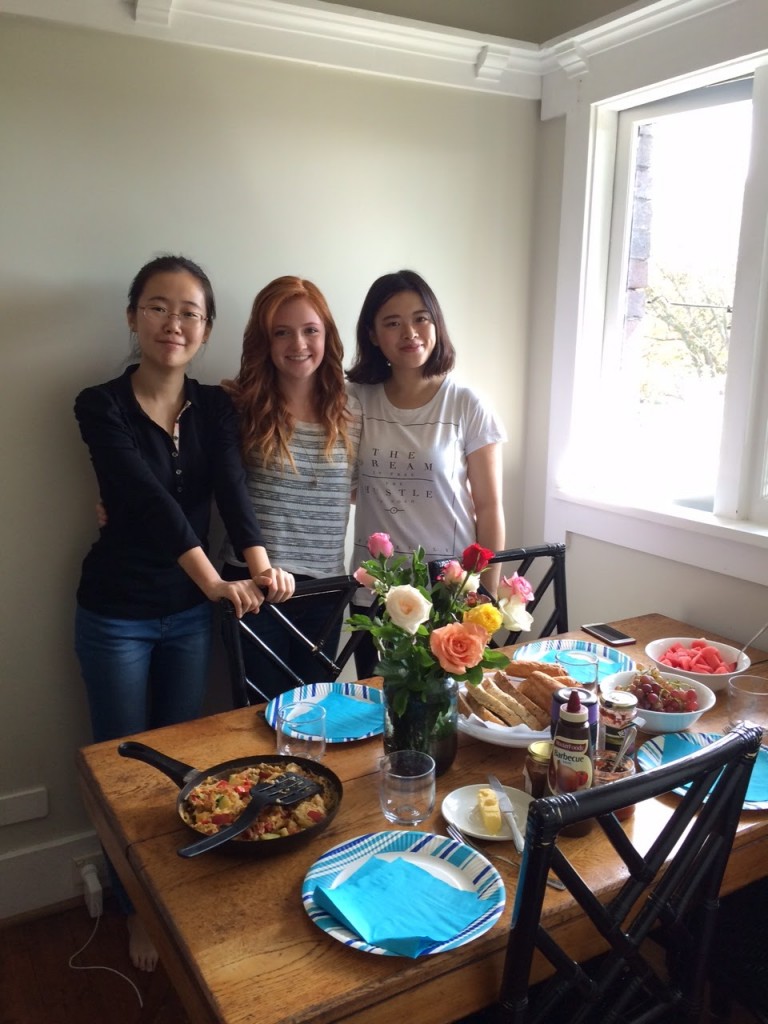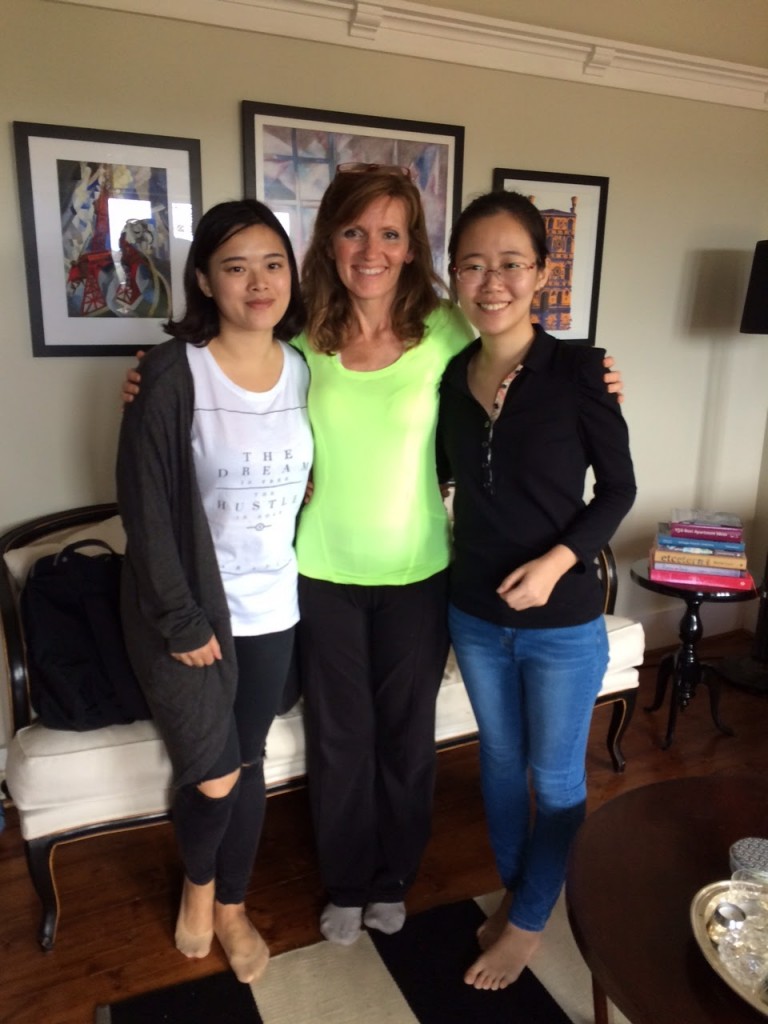 Brunch with our new friends, Summer and Cherry was delightful. Of course, I am always thrilled to receive beautiful flowers which adorned our apartment for days along with some yummy juice to accompany our Brunch Spread. Breakfast is one of my favorite meals of the day, although most of the time now I do a green smoothie as no one at my house really eats breakfast, so it is nice to have others over so I have an excuse to cook and EAT a big 
breakfast.
That evening we walked down to Coogee Beach for a little father daughter swim and snorkel, I was just getting over a bit of a cold so I bravely volunteered to take the photos…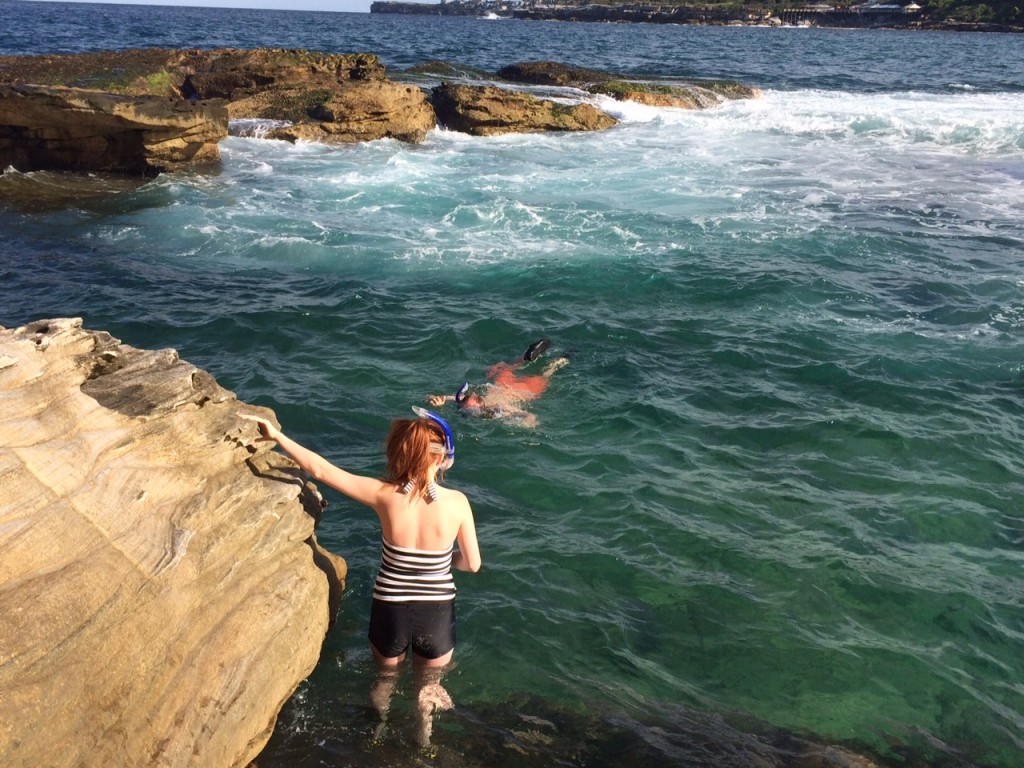 …while Dale checked out the available fish.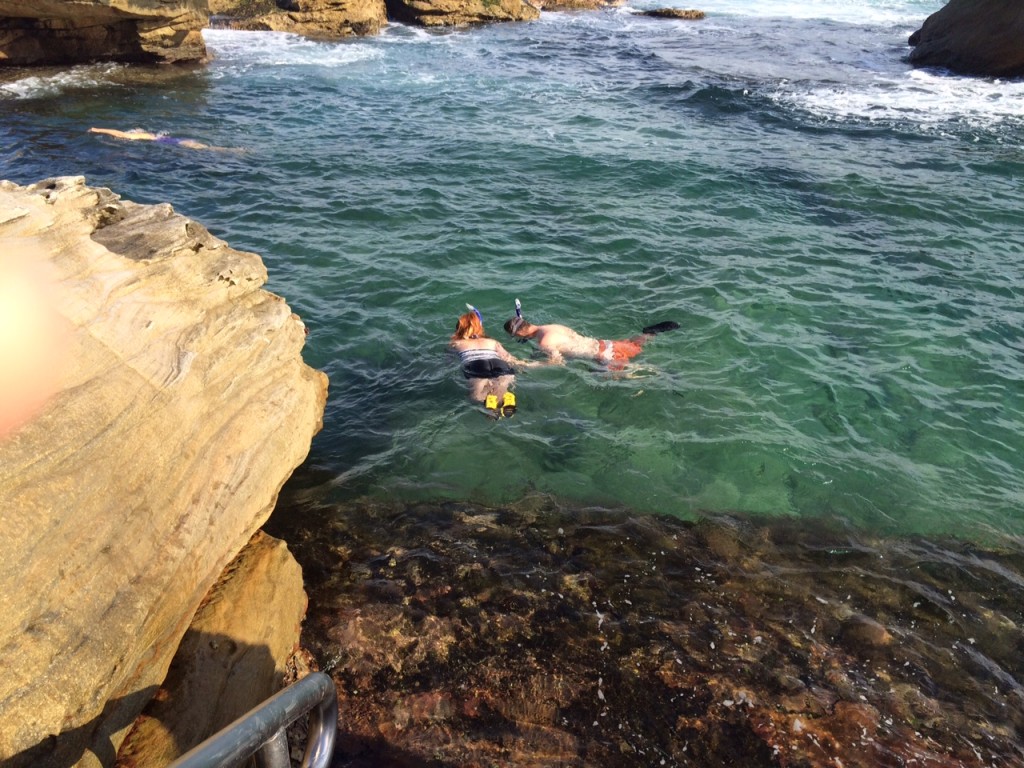 Marissa braving the semi-cold water to check out the underwater wonders with her Dad. 
Gladly she did not see any sharks which can sometimes be seen here but they are the more calm and docile type but you definitely do not want to touch the Blue-Ringed Octopus which often hide in the rocks as their bite can be fatal. Who knew you might need to worry more about an octopus then a shark?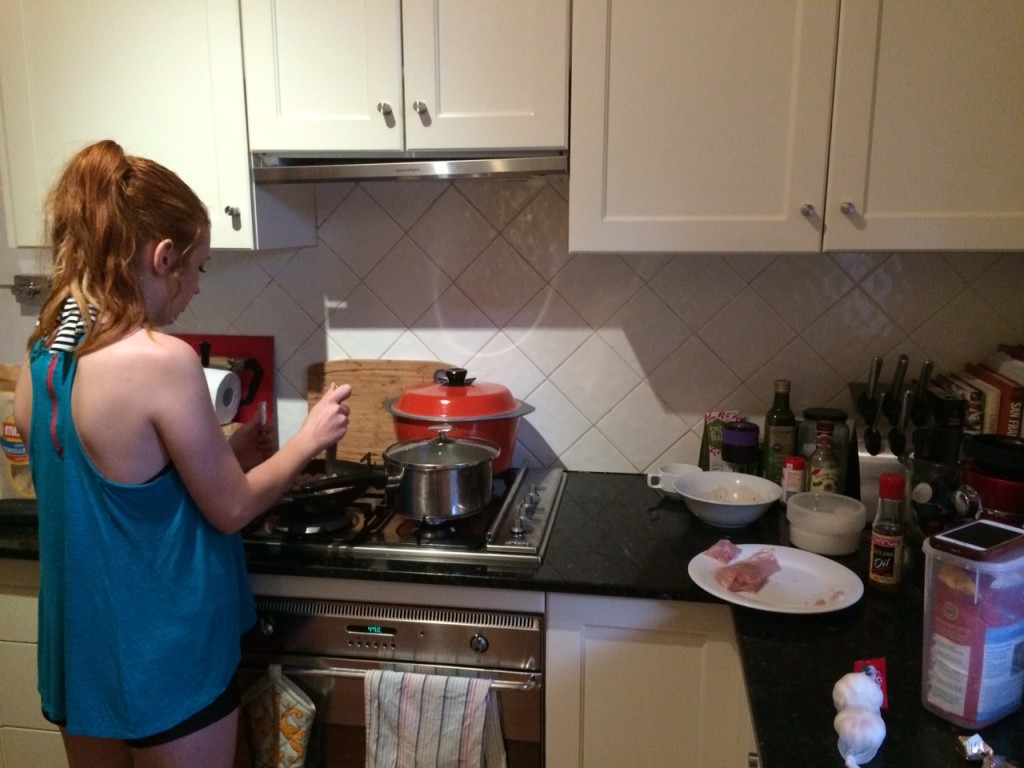 Marissa has cooked for a few times each week for us. Tonight she chose to make 'Kung Pao Chicken'.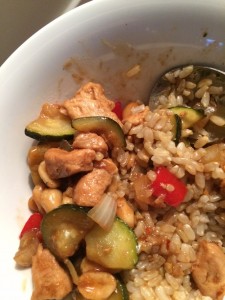 We are not just bragging because we can but this was much more flavorful and delicious the the Chinese restaurant we ate at (SHHH… don't let them know). We tried to see if we could pass on the recipe, and she was happy to as she found it on Pinterest. You can check Marissa's Pinterest or TravelingU Pinterest:
Servings: makes 4 servings

Prep Time: 10 minutes
Cook Time: 10 minutes
Total Time: 20 minutes
Ingredients
1 pound chicken breast, cut into bite sized pieces
1 tablespoon light soy sauce
1 teaspoon dark soy sauce
1 tablespoon Chinkiang (Chinese black vinegar) or balsamic vinegar
2 tablespoons chicken broth or water
1 teaspoon sugar
1 teaspoon cornstarch
3 tablespoons oil
10 dried red chilies
1 teaspoon to 1 tablespoon Sichuan peppercorns, toasted*
1 tablespoon garlic, grated
1 tablespoon ginger, grated
4 green onions, sliced
1/4 cup peanuts
1 teaspoon sesame oil
Directions
Mix the soy sauces, Chinkiang, broth, sugar and corn starch and set aside.
Heat one tablespoon of the oil in a pan over medium-high heat, add the chicken and saute until just about cooked and set aside.
Heat the remaining oil in a pan over medium-high heat, add the chilies and peppercorns and saute until fragrant, about a minute.
Add the garlic and ginger and saute until fragrant, about a minute.
Add the sauce mixture, bring to a boil, add the chicken, green onions and peanuts, remove from heat and stir in the sesame oil.
* If you are new to Sichuan peppercorns you might want to start with 1 teaspoon and build up to the full tablespoon that I go with.
1- Cooking at home can save you a tremendous amount of money. Marissa made this Kung Pao Chicken which was delicious and cost much less then going out for dinner (although it is nice having someone else to do the dishes).
2- We often try to find activities that won't cost us anything… or maybe a small amount, if needed. We brought our snorkel gear with us to Australia because we knew that we would have many opportunities to use them, and we have. Marissa and Dale took the evening to snorkel around a little cove off the beach by our home in Sydney. Cost? $0 – This is our favorite word – FREE!