Can families really travel the world?
We hope as you read our blogs you will get a sense of how absolutely possible it is for families to travel the world. We have been traveling like this with our family for over 10 years now and the difference it has made in our children's lives is incredible. Our favorite quote is from
St. Augustine – "The world is a book and those who do not travel read only one page."
It truly is our goal to help families realize how affordable travel can be if you know the right travel secrets and are willing to invest a little bit of time. 
We would like to take you along, through this blog, on our next family vacation and explore Prague, Vienna, Milan and the Amalfi Coast of Italy. Right now we are in the middle of planning so check back for the changes we make as we book the trip of a lifetime for the cost of going camping (almost).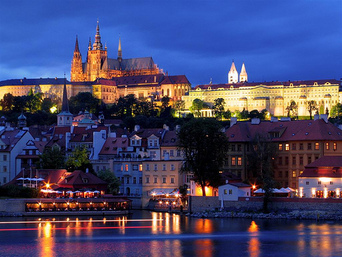 Why Prague? How do we get there?
First of all, Dale is the reason we are going to Prague.  The kids and I have pretty much dictated our past vacations to destinations they wanted to go. Our oldest daughter has always been fascinated with France. So much so that her minor in college is French and we believe she has been there almost every summer since she was 13. 
Second, why not Prague? It is one of the most beautiful cities in the world. Untouched by the wars that ravished Europe and full of so much history, it would take years to take it all in. Unfortunately we have only a few days this time around. Our hope is that we get enough of a taste to lure us back many times as other countries have. 
*Originally posted 3/2011